We had a good experience of the wedding event. All the events like Mehendi, Barat, Marriage Ceremony Entertainment programs were well managed and more than our expectation. Hotel Management also was co-operative. Kudos to the event Management team !!
S.M.Kothari and Madhukar Kothari
Had a really great time. Everything was well organized, and the decor was really nice. Hope to work with you again soon.
The Events were very innovative & creative in terms of the activities with a good mix of fun and excitement. The staff was very prompt and helpful.
AGRAWAL WEDDING
Rajesh is a person with taste, he has organised marriage of Agarwal & Gupta Family in real nice decor, Good Transport, pick up & drop, I can recommend him for any event he is Fantastic person.
RANIWALAS WEDDING
It was super to work with such a hardworking Team, Superb decor !!! Superb cordination..
Kavita Rungta
Bride Bhabhi
MOOKIM WEDDING
Rajesh ji you rock asusal keep the good work going really great team…
Very  nice arrangements, prompt response for every minimal of service , thanks to team Rajjas
JEENDGARS WEDDING
Amazing staff, great service, thanks for making a memorable wedding….
Chaitanya Jeendgar
Bride Brother
MODI WEDDING
We were skeptical at first while going to Mr. rajesh Bairathi… The way he handled things to the miniest details was amazing all decoration wove very tastefully done the best event managed marriage that i was a party..
Sunil Dhadwal
Bride's Father
RANIWALA WEDDING

Fantastic working with Rajesh sir and team, lovely experience & memorable event.
Khyati & Ashwin
Bride & Groom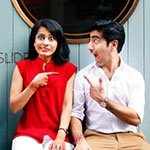 Just wanted to say a huge thank you to all of you ! Everything from start to finish, from our guest arriving at the airport to departure has been seemless… and made to look easy ! The Event team especially Rajesh, Sunny and Arjita have thought of and taken care everything.. and allowed us to enjoy all of our events without worry …. its been very easy to trust that things will be taken care of . The hospitality desks have take care of the guesta here at ITC and Holiday Inn so well and no request is every too much. Thanks especially to Arjita for helping me with my gifts for Jyoti.
Rajeshji.. great choice with Anand Van as the wedding venue and love all the decor in all events.  So pleased to have entrusted all the planning and execution to you and your team huge congratulations for pulling off a very successful wedding for us at such a busy period
Upen & Jyoti
Groom & Bride
I Would like to commend Mr. Rajesh Bairathi; for his exceptional work that we have witnessed this year and last year, I am very impresses by Monemutal task include the organisation the exceptional venues as well pay full attention to the schedule of speaker 24 hrs day we stay here..
On Behalf of Mittal Family, please accept my appreciation for the marvelous and melodious event performed by your team. It was an amazing event of Wedding Ceremony of my Son. Thank you once again for making the day so wonderful and it was all just so perfect.
Mahendra Kumar Mittal
Groom's Father
VARMA WEDDING
The colour were just right to set the mmood keep it up all the best for future endeavours …
Nikita, sanjay, sid, arjun
RANIWALAS WEDDING
Dear baiarthi ji & team kiddos of your team & you as a leader for for making this event sucessful, familiar faces during the event make working very comfortable saima/ gaurav / akriti & all of other have been on their knee .. keep it up
RANIWALAS WEDDING
Truly excellent this marriage was a life time rembrance with great hospitality & it was ver fun.. Thoughly enjoyed
ITM CONFERENCE
Great hospitality and great organisation of conference itself , the smooth execution of all function was impressive the welcome dinner & gala dinner were wonderful experience A big thank you entire event team and ofcourse to LIFE !!!
WALTER E DANDY CONFERENCE
Thank you !!! Extremely pleased with the hospitality & arrangements ,one of the best experiences . Keep up the good work
WALTER E DANDY CONFERENCE
Rajjas event have organised the conference well, hospitalty is good, the work is appreciated , good luck for future
MEHTAS & HALWASIYAS
Excellent Hospitality service by a group of talented young people keep it up & continue to make us incredible india !!!
MITTAL & AGARWAL
Amazing program very much upto the mark work , great team for making it so special love to Rajjas events
JAJODIA & AGARWAL FAMILY
It was a amazing stay good hospitality , lovely ambience and decore all the staff memebr is superb
ORIGINAL TESTIMONIAL IMAGE